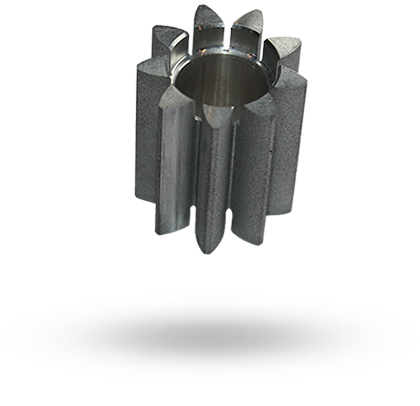 PRECISION PARTS

CADCAMATIC MANUFACTURES THE MOST COMPLEX COMPONENTS WITH THE HIGHEST DEGREE OF PRECISION AND ACCURACY. THANKS TO OUR SOPHISTICATED MACHINERY, INCLUDING A LATEST-GENERATION 3D MEASURING MACHINE, AND OUR YEARS OF IN-DEPTH EXPERIENCE WE ARE ABLE TO HANDLE EVEN THE HARDEST OF METALS.

LEARN MORE
JUST PRECISION
Cadcamatic disposes of an extensive range of machines for handling even the hardest of steel types: wire cutting and sink EDM (Charmilles, Makino), CNC milling, surface grinding and multi-tool turning etc. This allows us to produce most precision parts that are demanded by the current market or that we need in our moulds and dies, automations and machines.
By continually investing in new machines and technologies, Cadcamatic aims to remain an absolute pioneer.
It makes us more innovative, more efficient and simply better. JUST CUTTING EDGE

Our measuring chamber is air-conditioned. We verify the desired accuracy using a 3D measuring machine. Measuring can be done optically or tactilely. We measure our own precision parts or components supplied by the customer. If desired, we can provide you with an extensive measuring report.

SPARK EROSION

Our (EDM) spark erosion division is very extensive and can, if desired, be acclimatised. This allows us to handle components of the highest technological accuracy possible. Erosion offers plenty of advantages; the most important ones are listed below:

HARDNESS
The hardness of the material does not matter. We are able to handle hard metal, aluminium, hardened steel and copper. As long as the material is electrically conductive, we can cut it.
GEOMETRY
The machine can handle all geometric forms, including flat and three-dimensional and both large and minute ones.

RADIUS
Using a thin thread (with a diameter of 0.1 mm) we can cut openings with small, internal radii.

ACCURACY
An accurate dimensioning of up to 0.005 mm is possible.

ROUGHNESS
Eroding results in an extremely smooth surface with a Ra roughness of up to 0.15 µm.

EFFICIENCY
The combination of eroding with traditional machining techniques guarantees the most cost-effective solution.

Did you know that Cadcamatic can apply any wire liner in parts, regardless of the hardness of the material used?

COMPREHENSIVE SOLUTIONS
Cadcamatic can help you with the necessary deburring and mechanical engineering for individual parts and for small or large assemblies.We are at your disposal if you have any questions regarding precision parts.
Cadcamatic manufactures both one-off productions as well as mid-size series. Precision parts are sold on the market for prototyping, first production runs and complex serial productions. We also use these parts for our own dies and moulds and for manufacturing our own machines.